News & Events…
---
ACALAN set to launch African languages on cyberspace
Jun 29, 2018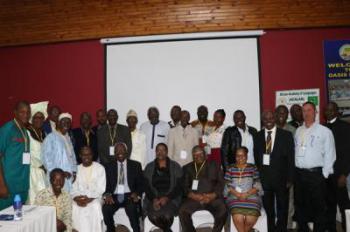 The African Academy of Languages (ACALAN) is set to launch African languages on cyberspace.
The 2018 African Union Consultation and planning workshop on African Languages and the Cyberspace which took place in Gaborone, Botswana on June 21-22, 2018 witnessed the presence of various experts and academicians from different part of the African Continent to give African Languages it pride of place in the cyberspace.
The workshop which focused on Computational linguistics, Broadcasting/Cloud Publicity, Folktale digitalization, Robotic language technology networking and software development, was flagged-off by the representative of the Minister from the ministry of Youth, Sport and social development of republic of Botswana.
The Ag. Executive secretary of ACALAN, Dr. Dampha Lang Fafa gave a welcome address.
During his opening address, the Ag. Executive secretary explained that ''ACALAN will implement all the resolutions reached at the work shop to be able to meet the Africa Union's target for 2063.''He therefore made a call to presidents of member states to further help in ensuring that African Languages takes its pride of place in the Cyberspace.
Meanwhile, the President of the Assembly of Academicians, Emeritus Professor in linguistics at the University of Yaoundé in Cameroon, Prof. Beban Sammy Chumbow made it known on second day of the workshop, that ''the essence of the workshop was to establish school of interpreters and translators for the African union which would emphasize translation involving African languages into European languages, the official languages of various countries, to ensure that knowledge that is needed by the people for development is available in the languages they speak, so that, they would be informed, knowledgeable and become fruitful agents of development in the developing process.''
Another cogent issue discussed at the workshop was the development and production of data and data basis, in ensuring that African languages can be used for internet and function within the cyberspace. ''By 2063, African Union expects that, African countries should have attained certain standard of development. However, this can only be done if the people are socially empowered and we believe language is the key.''
After series of lectures and paper presentation by experts and specialists, two committees were set up in order to put together the elements presented to new ideas that emerged so that, a blue print or a template of action that will be undertaken by the Academy for the future.
The workshop was moderated by Dr. Ojo. B. Johnson PhD, Senior Program and Project Officer African Academy of Languages (ACALAN) African Union Commission.
Below are the list of experts and academicians from different countries across African continent who attended the Workshop in Botswan:
Mr. Dwayne Bailey, from Britain, Prof Alou Keita from Burina Faso, Prof Belay Kassa, from Cameroon, Prof Charles Binam Bikoi, from Cameroon, Mrs. Nnenna Nwakanma from Cote d'Ivoire, Dr Mahama Ouedraogo, from Ethiopia, Ms. Irmgarda Kasinskaite-Buddeburg, from France, Prof Marcel Diki-Dikiri, from France, Prof Antoine MANDA TCHEBWA, from Gabon, Prof Charles Mafor, from Ghana, Mr. John Rex Amuzu GADZEKPO, from Ghana, Dr Buramah L. J. Jmmeh, from Gambia, Mr. Thierno Sadou Bah, from Guinea, Mr. David Ombui, from Kenya, Dr Lawrence Muchemi Githiar, from Kenya, Prof Alfred Dailex Mtenje, from Malawi, Mr. Adama Samassekou, from Mali, Mr. Aimé Bambara, from Mali, Mrs. Coulibaly Mariam Koné, from Mali, Mr. Kossi Abassa, from Mali, Dr. Lang Fafa Dampha, from Mali, Dr. Ojo Babajide, from Mali, Mr. Modibo Diallo, from Mali, Mrs. Djeinaba ElHadj DIOUF, from Mauritania, Prof Mohamedoune Wane, from Mauritania, Prof Mohammed El Ferrane, from Morocco, Mr. Komi N'Kégbé Fogâ TUBLU, from Niger, Prof AWOBULUYI Ọladele, from Nigeria, Mr. Cletus Ilobanafor from Nigeria, Mrs. Iwuchukwu Kelechi, from Nigeria, Dr Lawrence Ougamamba Tasah, from Nigeria, Dr Odetunji Odejobi, from Nigeria, Prof. Titus Ayorinde BAMGBOSE, from Nigeria, Dr Tunde Adegbola, from Nigeria, Mr, Ahmeth Diouf from Senegal, Mr. El Hadj Mamadou Nguer, from Senegal, Prof Fary Silate Ka, from Senegal, Mrs. N'Deye Name Diouf, from Senegal, Dr Langa Khumalo, from South Africa, Prof Sheila Mmusi from South Africa, Mr. Martin Benjamin, from Swiss, Dr Juma Hemed Lungo, from Tanzania, Dr Simon Seleman Sewangi, from Tanzania, Mr. Timothy Mwaisaka, from Tanzania, Ms. Ayeta Anne Wangusa, from Uganda, Mrs. Margaret Nakinga, from Uganda, Dr Ndlovu Eventhough, from Zimbabwe.
---
See Other News & Events »