News & Events…
---
ACALAN establishes Arabic, Sango, Isizulu Vehicular Cross-border Language Commissions
Dec 23, 2018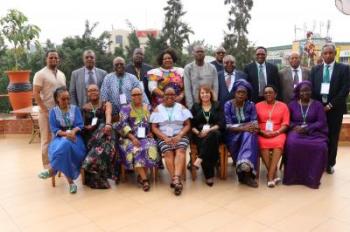 African Academy of Languages have launched the Arabic, Sango, Isiszulu Vehicular Cross-border Language Commissions. This took place at the ongoing ACALAN operational holding in Kigali.
Speaking at the workshop, ACALAN Executive Secretary, Dr. Lang Fafa Dampha said the commission will form working groups and that priority areas for the development of the languages will be identified.
In her remarks, the Head of Culture Division, African Union Commission (AUC), Madam Angela Martins affirmed that language plays an important role in the development process of a people.
She said, "Today marks a milestone in the progress towards the recognition of African languages as not only vernaculars but committed to the education of the African child. Earlier in the year, ACALAN held a similar workshop in Niamey to launch Soni and Songhai Vehicular Cross-border Language Commissions. This is the second phase of the program.
"Language as we all know plays a crucial part in the individual perception of the world, national pride, identity, culture and practice. Therefore language as a vehicle of a people's culture and actualization of the people's creativity and participation in wealth creation, employment and the economy cannot be left to chance in terms of its development and growth."
She further pledged her commitment to the success of the various language commissions noting that all involved must come together to ensure its noiseless take off.
"On behalf of the Commissioner of Social Affairs, H.E Amira Alfahil, I will like to pledge all maximum cooperation in making these commissions work to realise the dreams of our founding fathers. So our task as potential members of these different Commissions to be created is to see that all efforts are geared to making African languages realise the values that will make African languages to be seen as tools to make it easier for all Africans to get jobs and making it easier to participate in knowledge production for the labour market which will in turn have a direct impact on the economic development of the continent," she remarked.
Furthermore, the AUC Head of Culture Division lauded ACALAN's programmes as vehicles of social empowerment and development. She added that Africans have to lead the change as far as language planning in Africa is concerned noting that this will enable Africans tell the African story and hence active prticipation in the development strategies of the continent.
---
See Other News & Events »