News & Events…
---
ACALAN's Vehicular Cross-border Language Commissions
Dec 23, 2018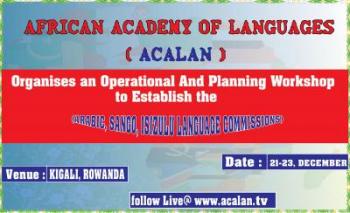 The Vehicular Cross-border Language Commissions are part of African Academy of Languages (ACALAN) working structure established to oversee ACALAN's language development at the grass-root level.
ACALAN has so far established Fifteen (15) Vehicular Cross-border Language Commissions. Together with National Language Structures, the Vehicular Cross-border Language Commission form and serve as focal points of ACALAN in the member states of the African Union.
As focal points, the Language Commissions and National Structures are charged with the responsibility of empowering and developing the languages as well as establishing partnerships and building working relationships with institutions dealing with the promotion of African languages.
At the synthesis Conference, held at the headquarters of the African Union in Addis-Ababa, in February 2009, 41 Vehicular Cross-border Languages were identified out of which, twelve (12) were selected to establish Vehicular Cross-border Language Commissions to coordinate ACALAN's language development programmes at the grass-root. The languages are: Standard modern Arab and Berber for North Africa; Hausa, Mandenkan and Fulfulde for West Africa; Kiswahili, Somali and Malagasy for East Africa; Chichewa / Chinyanja and Setswana for Southern Africa, and Lingala and Beti-fang for Central Africa.
---
See Other News & Events »