News & Events…
---
Exchange of information is vital for development – Dr Lang Fafa Dampha
Jan 1, 2019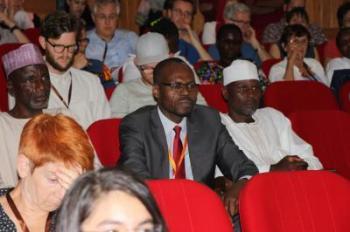 The Executive Secretary of the African Academy of Languages (ACALAN), Dr. Lang Fafa Dampha has highlighted the important role of the media in any development process.
He made this known in his closing remark at the just concluded ACALAN workshop with media and communication experts held in Kigali.
He said, "After two days of deliberations, we have arrived at the conclusion of recommendations that are repertoire of the workshop. I will like to thank you all for the work accomplished in just two days. The workshop has basically been on ACALAN's communication plan in partnership with media practitioners and professionals but a planning session has also been going on by ACALAN's strategic planning experts to revive ACALAN's 10 year strategic plan starting from 2019.
"Distinguish participants, the establishment of a system of transfer and fruitful exchange of information remains vital for people to participate in improving their environment and living conditions, for us this will not be possible without the use of African languages because it is this language that the people communicate in. Regarding the strategic plan of ACALAN it has been revised to more detailed and precise one covering a 10 year period that is better suited to the mission and vision of ACALAN in line with the AU agenda 2063 for the Africa we want. I can assure you that the recommendations that have been made in the workshop will be given proper attention.
He expressed believe that the workshop will help the Academy overcome challenges relating to communication.
"With Regards to the communication plan we particularly appreciate the methodology presented by Prof. Dan Bago who invited the each of the participants to make recommendations regarding the implementation of ACALAN's communication policy. Clearly communication has been a challenge for ACALAN but this challenge will be surmounted with the leadership of Prof. Dan Bago and with the support of all of us here."
---
See Other News & Events »