News & Events…
---
Dr. Babajide calls on Africans to give ACALAN continued support
Jan 1, 2019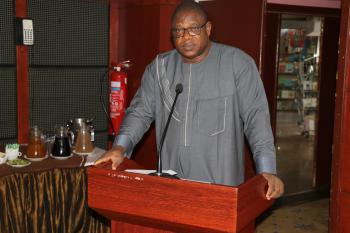 The Senior Program & Project Officer of the African Academy of Languages (ACALAN), Dr. Babajide Ojo has called on African nations to continue to support the Academy as we embark a new year.
He made the call in his New Year message to Africans around the world. Dr. Babajide noted that the Academy has enjoyed the support of Africans all through 2018 and urged Heads of Government of AU member states, organisations and well-meaning Africans to renewed support as we enter another calendar year.
He said, "We have been enjoying the cooperation of Africans everywhere we have been. The Regional Economic Communities (RECs) - ECOWAS, and other regional communities are coming together seeing the need to use what we have to come together, unite and build a very solid Africa. I also want to thank the Government of Rwanda under President Kagame. We urge other African nations to continue to support us.
"I wish everyone in Africa a happy and prosperous 2019 as we mark the new year."
---
See Other News & Events »