News & Events…
---
ACALAN Executive Secretary expresses optimism for African language development in 2019
Jan 1, 2019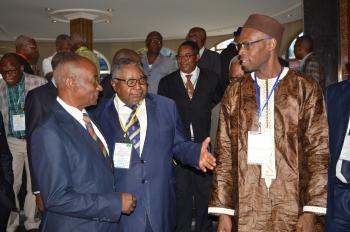 The Executive Secretary of the African Academy of Languages (ACALAN), Dr. Lang Fafa Dampha has expressed hope for a better Africa come 2019.
He made this known in his special New Year message earlier in the day. While wishing Africa and Africans a prosperous 2019, he also took out time to review 2018. He stated that 2018 has been a good year for ACALAN in its drive to developing and promoting African languages.
Dr. Dampha noted that the programmes carried out by the Academy this year has been carefully drafted to further drive ACALAN's mandate of promoting African languages.
He added that 2019 would be a pivotal year for the development of African languages as the Academy will be building on the successes of 2018. According to him, the Academy has lined up a host of projects for the coming year, he expressed optimism that the programs planned for 2019 will reposition African languages, restore the pride of indigenous African languages, promote cooperation and inter-trade among African countries thereby triggering African integration and socio-economic development.
ACALAN is a specialize organ of the African Union, AU committed to empowering indigenous African languages with the view of making them official languages and languages of instruction and as tools of African integration.
---
See Other News & Events »