News & Events…
---
The inclusive leadership style of ACALAN Executive Secretary
Jan 17, 2019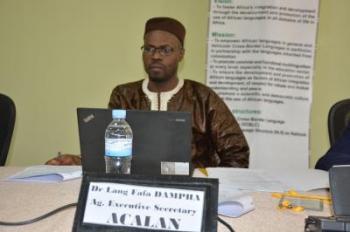 The Executive Secretary of the African Academy of Languages (ACALAN), Dr. Lang Fafa Dampha has over the years demonstrated exemplary leadership. One attribute that is moreover eye-catching is hisinclusive leadership style which has allowed his subordinates to more willingly and effectively contribute to the organizational goals by freely expressing themselves.
Dr. Dampha moved to Paris in 1989 where he obtained his first degree in English Language and Literature at the University of Paris 7 Jussieu and a Ph.D in English Studies (Society and Culture) at the University of Paris IV Sorbonne.
He started out as a lecturer at the University of Paris and has published a number of books. His commitment to the development of Africa however would see him return to the continent in 2009. Upon his return, he joined up with the African Academy of Languages (ACALAN), African Union's specialised language agency, where he served as Senior Research and Programme Officer. He has since put his experience and resourcefulness to good use in coordinating research and programme activities of the Academy.
He was appointed Acting Executive Secretary of ACALAN in 2015, and has since been ableto build on the foundation laid by his predecessors by enabling ACALAN's organs (ACALAN's Governing Board, Assembly of Academicians and Scientific and Technical Committee), and especially the working structures (Vehicular Cross-border Language
Commissions and National Structures- Focal Points) to carry out their duties in implementing ACALAN's vision and mission to develop and Promote African languages as an effective factor of African integration and development. Since January 2019, Dr Dampha has become the Executive Secretary of ACALAN.
He is not the type of leader who shuts out his subordinates but rather give them the conditions to flourish in their roles. He clearly recognizes that everyone has something significant to contribute hence his inclusive leadership style.
This has given all involved a sense of belonging and responsibility, raised The Pan-African spirit for everyone involved. It has subsequently increased productivity at the Academy as evidenced by the progress recorded by ACALAN in recent times.
ACALAN's programmes, workshops and meetings have always been characterized by brainstorming and exchange of ideas. This allows every stakeholder to Make meaningful contributions towards the objectives.
The Academy's activities have been strategically broken down to continental, regional and national programmes allowing everyone involved to play an active part in the developmental strides which ACALAN continue to make.
---
See Other News & Events »