News & Events…
---
ACALAN restates need for language development
Jan 18, 2019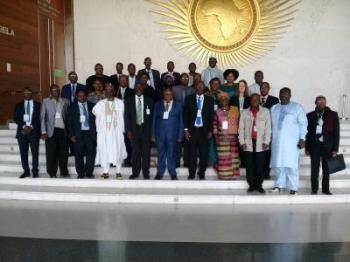 The language agency of the African Union (AU), the African Academy of languages, (ACALAN), has reiterated the importance of language development. This was the general consensus of participants at the just concluded ACALAN workshop with media practitioners held in Kigali, in December 2018.
It was agreed that to arrive at the Africa of our dream, there is need to develop African languages.
The meeting was attended by ACALAN Executive Secretary, Dr Lang Fafa Dampha, The Senior Project and Programme Officer, Dr. Ojo Babajide Johnson, members of ACALAN's Assembly of Academicians and media practitioners across AU member states.
It was recommended that ACALAN train media practitioners on cross-border languages as a factor of continental integration. Member States were also urged to put in place language policies that will guide the development of African languages, because having no language policy is in itself a policy to not develop and promote African languages. It was also suggested that AU Member States should resuscitate media that tells African stories, the African way.
Meanwhile the Executive Secretary of ACALAN Dr. Lang Fafa Dampha expressed Satisfaction on the two-day exchange and thanked participants for the work accomplished which included revisiting the ACALAN strategic plan.
---
See Other News & Events »