News & Events…
---
AU policy aimed at ensuring participation of Africans in the development of Africa – Dr Dampha
Jan 26, 2019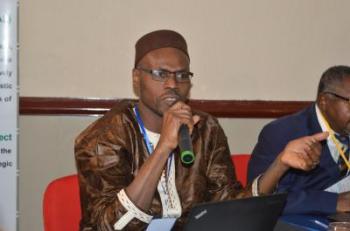 The Executive Secretary of the Assembly of Academicians of the African Academy of Languages (ACALAN), Dr Lang Fafa Dampha has stated that the AU policy on languages is to ensure full participation of Africans in the development process of the continent.
He said, "We are here in Kampala, for a workshop of the African Academy of Languages, which is responsible for promoting Africa's language policy. It is about a policy that has been adopted by the head of state and purely the African world, to promote the use of African languages in partnership with the inherited languages of colonization, English, French and Portuguese.
"The policy of the African Union is to assure us a participation program of the African people in line with development. We must use the national languages first, but in partnership with other languages because we see that most of our citizens do not speak well the official language, all of which are well spoken by 40% of the population. Therefore, English and French are spoken by 40% in the measurement where 60% of our people express themselves only in African languages."
He stressed the need for development programs should be conveyed in national languages to allow for accessibility by majority of the people.
According to him, "if the development and all that has to do with the government is available only in official languages, that means 60% of our people is marginalized, even excluded from the development process. Therefore, the African Union thinks that the situation must be reversed so that development can be made available and accessible to the majority in a language which grasps well the national language.
"Therefore, we believe that there will be an instrumentalisation of language. That is to say, to allow in these mother tongues the necessary terminologies to express the knowledge, the know-how, and the knowledge to be in the African language. This is the aspect of democratizing the access to knowledge to know that our people can be agents of developments in their countries and across the continent of Africa."
---
See Other News & Events »