News & Events…
---
ACALAN plans to use African languages in the international forum – Dr. Lang Fafa Dampha
Jan 29, 2019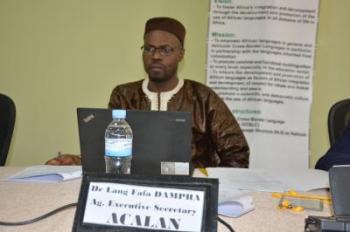 Buttressing its resolve to promote the use of African languages, the Executive Secretary of the African Academy of Languages (ACALAN), Dr. Lang Fafa Dampha has made known the plans to take the usage of African languages to the International forum.
He said, "We want to use African languages in the international field, in the United Nations. We need to start with ourselves. We have to start with the African Union, for example, Kiswahili. It is an official language of the AU but it is not a working language because there is no document produced in Kiswahili.
"Therefore, we need to start with Kiswahili, Kinyarwanda at the centre of the African Union in our states before going to the United Nations. We are here for that, we are working with UNESCO."
He further noted that the Academy will take Kiswahili as a language of the African Union, introduce the language to schools and member states of the African Union (AU).
---
See Other News & Events »